White Petroleum Jelly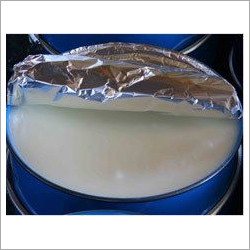 White Petroleum Jelly
Product Description
We offer both yellow and white pharmaceutical
petroleum jellies
for cosmetic, personal and pharmaceutical use. These are manufactured in compliance with quality controlled by Sasol Wax. These white and yellow pharmaceutical jellies have purified and refined mixtures of hydrocarbons because of which they are resistant towards light and heat. Due to well defined viscosity and congealing point, these are highly consistent. Our manufactured pharmaceutical petroleum jellies are safe to use and do not cause any skin irritation, allergy, comedogenic reaction or other toxic effects. These conform to the necessities of all the global cosmetics and pharmacopoeia regulations.
Our manufactured petroleum jellies are homogenous amalgamation of hydro-treated and highly refined hydrocarbons with carefully chosen waxes and are used for the making of gels, which are odorless and have high hydrating properties. The manufactured wax has ideal emollient properties and uniformity which is formed with other active ingredients.
We supply both, white and yellow pharmaceutical petroleum jellies for use in personal care, cosmetic or pharmaceutical products.
Pharmaceutical petroleum jellies are subject to the highest quality requirements, compliance with which is strictly controlled by Sasol Wax. White and yellow pharmaceutical petroleum jellies. The products consist of highly refined mixtures of hydrocarbons. All products possess good resistance to heat and light. Thanks to very closely defined physical properties such as congealing point and viscosity we can guarantee consistent quality in their end products.
Pharmaceutical petroleum jellies are regarded as generally safe. The products are not known to have any allergenic, comedogenic, skin irritation or toxic effects. The products conform to all requirements of international pharmacopeia and cosmetics regulations.
ARJUNs Petroleum Jellies are homogeneous mixtures of highly refined and hydro-treated hydrocarbons with specially selected waxes, forming ointment like gels, which are nearly odourless with excellent hydrating characteristics. The resulting gels have excellent emollient properties and consistency for formulating with other active ingredients. ARJUNs ability to offer tailor-made formulations help to offer products meeting customers precise and exacting specifications. Savita offers grades that comply with strict standards of BP, USP, NF, EuP, IP and other pharmacopoeias. Petroleum Jellies are favoured by personal care and pharmaceutical companies as very versatile, safe and economical formulation base.
Various grades of Petroleum Jellies catering to pharma & personal care products as well as technical grades for less critical applications and meeting specifications of customers are manufactured.
Applications
The Petroleum Jellies are used as an ointment base, protective dressing and soothing applications to skin. These gels offer excellent barrier to moisture and thus prevent moisture loss from skin. Savita's Jellies are used in formulating various cosmetic and personal care preparations like hair conditioners, hand cleaners, lip balms, massage creams, moisturizing lotions, and sun care products and in various pharmaceutical applications such as skin protecting ointments, medicated ointments etc.
Characteristics
ARJUNs products are manufactured using highly refined paraffinic white mineral oils and waxes. This ensures the products are as per the pharmacopeia requirements.
ARJUNs products meet the requirements of pharmacopeia (USP, IP and AP) and are manufactured as per the GMP norms
TECHNICAL SPECIFICATIONS

Properties
Unit
Method
Specification
Drop Point
0C
IP-371
40-50
Drop Melting Point
0C
ASTM D-127
55-65
Cone Penetration - 25 deg C
dmm
ASTM D-937
160-180
Kinematic Viscosity - 100 deg C
C.St.
ASTM D-445
7.0-11.0
Light Absorbance
290nm 0.05%(w/v)
0
Light Absorbance
290nm 0.05%(w/v)
To Comply
Polycyclic Aromatic Hydrocarbons


BP-2008
To Comply
Acidity/Alkalinity
0
BP-2008
To Comply
Odour Test
0
BP-2008
To Comply
Sulphated Ash
%
BP-2008
To Comply
Foreign Organic Matter


IP-2007
To Comply